Whether you are hosting an event, relaxing on your patio, laying poolside, or gardening in your yard, there are multiple opportunities to enhance entertainment. The simple installation of outdoor speakers can add personality to your yard and leave a lasting impression on your guests. We offer multiple types of speakers, which not only enhance the quality of your yard, but are inconspicuous while projecting high-quality sound for you and your guests to enjoy.
Landscape Technology
James Loudspeaker finds themselves right in tune with leading edge solutions for outdoor sound. Having mastered the mix of excellence in design, technology and superior sound… outdoor entertainment has never been so complete. Designed with motion in mind James Virtuoso outdoor systems provide consistent sound levels in multiple stereo listening areas: by the pool, next to guests mingling at the BBQ or surrounding tennis courts.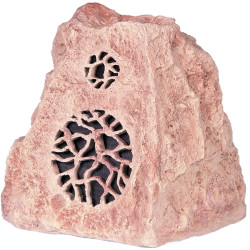 James outdoor subwoofers have planted the power at your feet. Featuring the "hidden" subterranean subwoofer, this direct burial, bandpass design creates an earthshaking performance.
Sonance continues its award-winning audio philosophy outdoors, with a range of all-weather products that are designed to deliver best-in-class performance and best looking aesthetics in every exterior environment. From courtyards and patios to entire residential estates or resort gardens, Sonance is the undisputed leader in high fidelity sound for the great outdoors.
Rockustics pioneered custom outdoor speakers in 1985 and was granted a US patent in 1987. Their philosophy has always been to build the "world's best" outdoor speakers. To this day, Rockustics is the leading manufacturer of outdoor speakers. The sculpted grille openings in the speaker faces are specifically designed to provide you with a transparent acoustic path that makes Rockustics the best speakers in the industry. Rockustics speakers are proudly made in the USA.
---
SunBriteTV Outdoor TV Technology
Engineered from the ground-up for outdoor use
SunBriteTVs are the only time-tested TVs in the world that are specifically designed and built from the ground-up for the outdoor environment. These true all-weather outdoor LED TVs deliver superior brightness, while resisting the harsh effects of rain, dirt, insects, extreme temperatures, and UV rays. All models are engineered with an extra-bright, non-glare LED panels to optimize outdoor viewing. SunBrite televisions feature either all-weather ASA outdoor-rated high impact resin (Signature Series) or powder coated aluminum (Pro Series) exteriors that protects the internal components from the damaging effects of rain, snow, dirt, and insects.
Weather-proof materials are used in every component of SunBriteTVs. Stainless steel and galvanized metal parts are used throughout the TV to resist the corrosive effects of water and humidity. Protective gaskets, stripping, and grommets are specially selected to resist the harmful effects of salt air and sunlight. All models utilize an innovative watertight cable entry system and cable pass-through design that protects the cables and inputs from the elements. Even the powerful built-in 2-way 20-watt speakers are sealed against rain and moisture.